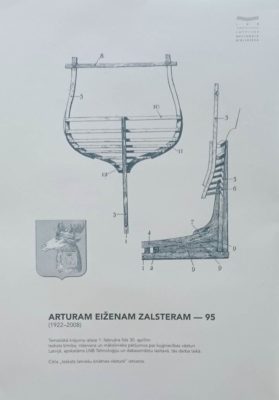 From 1st February to 30rd April 2017 an exhibition "Arturs Eižens Zalsters – 95" can be visited in Technology and Science Reading Room (3rd floor) of Latvian National Library. This exhibition is part of the series "Insights Latvian history of science". Entrance is for free.
A. E. Zalsters conducted extensive research of Rīga, Ventspils and Kuldīga shipyard history and constructed Rīga ship. A. E. Zalsters has written more than 400 publications on various topics. Museum collection presents publications on shipping and two manuscripts.
A. E. Zalsters confessed that sailing vessels are the most romantic ships – "The sailing vessels built in Latvia are the object of my 30 years long research, my hobby and my passion."
Museum collection can be visited during working hours of Latvian National Library.
Published from www.lnb.lv