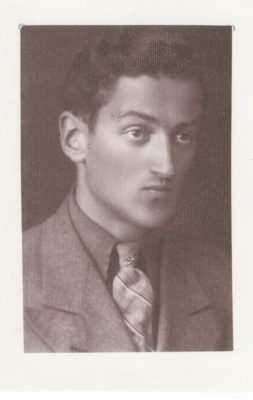 "A man of many gifts and talents, extraordinarily competent and qualified researcher – these are the words that best describe the achievements of Arturs Eižens Zalsters. He was a highly-qualified amateur in the best meaning of this word, because he carried out his research with no material incentive; on the contrary – he used his private money to fund many of his trips, as well as technical means and devices necessary for his research because there was this unusual flame about him – an urge to discover, research and be the first to know; to gain gratification by telling it to others. He was a man who carried out his research for the good of nation, Latvia and the future."
Ilgars Grosvalds, Arnis Vīksna
/University of Latvia articles, volume 738 "The history of sciences and museums"/
Arturs Eižens Zalsters was born in Melluži, Jurmala on February 2, 1922, in the family of a captain of seagoing ship. He studied in Melluži Primary School No. 3 and in Riga State Gymnasium No. 1. He was a scout in the 38th Land unit and in the 9th Sea unit. In 1939, A. E. Zalsters enrolled the Chemistry department of Riga State Technical School (RSTS).
In 1943, he was mobilized by German Air force and assigned in tank repairing unit in Riga that was run by the para-military TODT organization. After passing exams externally, in May 23, 1944 he obtained a diploma No. 1082 from RSTS that allowed him to study in university preparation group. In 1944, the tank repairing unit was transferred to East-Prussian town of Braunsberg (now Polish Branevo) and later to a "bomb safe factory" in Pillau (Baltijsk). When it was bombed, A. E. Zalsters arrived in Samland, in north of Poland. In the end of the war he was enlisted in the Red Army but in May 1946 he was demobilized as a student, though he only had an education of technical school.
As the German time diplomas were not acknowledged, A. E. Zalsters had to re-enroll the technical school, which has been renamed to Riga Industrial Polytechnic School. In 1947, he finished the school and was eligible for studying in university without having to pass the exams. He grabbed the opportunity and started to study in the Faculty of Chemistry of the University of Latvia. Initially he chose the Deparment of Pharmaceutical Technology but, after its closure in 1950, he moved to Silicate Chemistry and graduated from it in 1952.
While working at the Central Laboratory for Scientific Research of building materials, A. E. Zalsters retrained and became a designing engineer of non-standard devices. 5 design patents confirm how productive this period was.
In 1980, thanks to his excellent German, A. E. Zalsters started to research archives of Courland, recovered from Germany, for the Latvia State Museum. During the long business trips in Leningrad he had the chance to peek into the USSR Central History archives, Hermitage and other hand writings collections. That's when he also completed the courses of ancient writing that came in handy when he researched data from the time of the Duchy of Courland.
A. E. Zalsters gained much inspiration from Georgs Jensis, the son of well-known Latvian archives researcher, former Riga Polytechnical Institute (now RTU) professor Arnolds Jensis. In the summer of 1989 A. E. Zalsters for the first time researched the Cape Kolka aboard the Estonian Maritime Museum research ship "Mare.
Ships and sailing vessels
Between 1980 and 1985, A. E. Zalsters led a group of researchers developing the reconstruction project of a 12th century Riga ship unearthed during the archaeological excavations of Riga Old Town. Every member of the group of engineers that developed the reconstruction drawings was a leading constructor, therefore Leningrad's specialists welcomed and approved this work. A model of the ship was also made, and it can today be found in the The Museum of the History of Riga and Navigation.
From 1986 to the end of 1990, A. E. Zalsters worked in the "Uzvara" fishing kolkhoz in Jurmala, focusing on recreating ancient shipbuilding technology. At the same time, he researched the coastal regions of North Kurzeme and its shipbuilding skills. This is demonstrated in the letter of Chairman of the Board of the "Uzvara" kolkhoz I. Bumburs to Minister of Forestry L. Vītols requesting permission to buy a 36 m3 oak for building the Riga ship. Sadly to no avail…
After Latvia regained the independence, from 1991 A. E. Zalsters participated in several international conferences abroad: Stockholm (Sweden), Gdansk (Poland), Toronto (Canada), Tallinn and Tartu (Estonia). In 1991, in Stockholm, during the 9th Conference of Scandinavian studies, he described the specifics of local boat-shaped ships when transiting from rowing to sailing. In 1992, in Toronto, during the 13th Baltic studies conference, A. E. Zalsters presented his research on Couronian fishermen villages from Plieņciems to Nida. In the 9th Ship and Boat archaeological symposium in Gdansk great interest was aroused by his report on building methods of tension boats and boat-shaped ships; its base is made from "gates" – two poles that are connected by a cross beam and until then this was considered to be a mythological procedure.
To describe the old shipbuilding craft academically, from 1991 to 1999, A. E. Zalsters worked for Jurmala City Museum as senior research associate. In 1992 A. E. Zalsters studied the three-masted sailing vessel found in Carnikava. The items found on the wreck – Dutch pipes, remains of ceramics, clothing, ropes and other articles were handed over to Jurmala City Museum where they can be found now. It was impossible to transport the wreck itself because of the lack of money and technical equipment. A. E. Zalsters met again with the sailing vessel in 2000 when Voldemārs Rains, Jurmala City Museum underwater archaeologist, informed on finding the vessel, and thanks to Carnikava Municipality, this time the remains of the wreck were transported to Jurmala City Museum.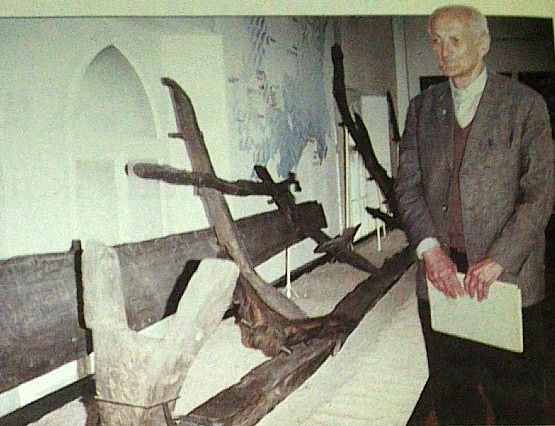 The "Latvia's Ancient Ships" ("Latvijas senie kuģi") public fund, in which A. E. Zalsters actively participated as an expert in the hope that there would finally be an opportunity to build the historical Riga ship, was founded in 1997 in Riga. His hopes were not unfounded, as they had garnered significant moral support. Even the State Inspection for Heritage Protection agreed in letter 363 from the 2nd of June, 1997, that, in 1998, a commemorative plaque and buildings in honour of Riga's ancient harbour and its inhabitants would be built in the vacant area where Rīdzenes, Vecpilsētas and Kalēju Streets and Alberta Square opened onto the 13th January Street main road. Meanwhile, the opening ceremony for the reconstructed 12th century Riga ship was planned for July 1998 on the old harbour site as a central event of Riga's 800 year anniversary celebrations.
On the 17th of June, 1997, in preparation for this event, Chairman of the Riga City Council Andris Bērziņš wrote a letter in support of "Latvia's Ancient Ships" ("Latvijas senie kuģi") requesting that all businesses and organisations who were "not indifferent to Riga's 800-year anniversary celebrations to sponsor the programme of "Latvia's Ancient Ships" ("Latvijas senie kuģi") where possible." Sadly, the anniversary celebrations were opened and closed without the Riga ship, and the fund closed in 2007 without having begun work on the building of the ship.
People were not indifferent, especially with regard to creating A. E. Zalsters' intended Riga ship – in 2010 a group of enthusiasts were hopeful and determined to build the Riga ship by 2014, when Riga was preparing to become European Capital of Culture. But again their hopes remained unrealized.
The "heir" of the Riga ship dream of A. E. Zalsters became the "Riga Ship" ("Rīgas Kuģis") association, founded in 2013, which founded the "Ancient Harbour Fund" ("Senās ostas fonds") in order to complete their goal.
Scientific work
In 1997 A. E. Zalsters gained his master's degree in engineering, successfully presenting his master's thesis, "Characteristics of Ancient Ship Construction," which he wrote under the supervision of RTU professors Jānis Vība and Olafs Kepe.
A. E. Zalsters wrote his second master's thesis, "Schools of Ancient Shipbuilding and their Mutual Influence," under the supervision of the Latvian Academy of Culture's professor Juris Tālivaldis Urtāns in 1998, earning his Master of Arts.
A. E. Zalsters is well-known in the world of arts, as well, because before war he studied in Jānis Roberts Tilbergs Art School and after the war – he apprenticed to Kurts Fridrihsons and for 14 years he was a member of Latvian SSR Artists Association and exhibited his works in numerous art exhibitions. His paintings can be found in many private collections.
"His paintings are aesthetically balanced; in a modest manner, he avoids depicting anything more than nature in its beauty – autumn, spring, a flaming sunset or a rainy mood" – that is how the paintings of his cousin were described by artist Uldis Zemzaris.
In 1998, A. E. Zalsters' work, "Characteristics and Traditions of Ancient Local Ships," was supported by the State Culture Capital Foundation's second cultural project contest.
Of course, as a researcher, A. E. Zalsters has written the most about ancient ships, looking at their building traditions and characteristics during several eras in Riga, Kurzeme and elsewhere. In these works, A. E. Zalsters defended his method – evaluating the affiliation of ancient seafarers based on the construction characteristics of the ships they built. His research confirmed dominant Livonian and Curonian features of shipbuilding in Northern European and Latvian seafaring.
The peak of the scientific work of A. E. Zalsters was the splendid monograph "The sailings ships of Duke Jēkabs" (artist Elīza Vanadziņa), printed in 2002. The five chapters of the book inspect the old harbours and shipyards of Courland, the peculiarities of 17th century Dutch ships, description of ancient sailing ships in Europe, the constructional characteristics of sailing ships from Ventspils, the shipyards, craftsmen and sculptors of Duke Jēkabs Ventspils shipyards, the ships and ship inventories of the Duchy of Courland, navigation conditions in 17th century Latvia, as well as, the equipment, navigational capabilities, armament etc. characteristics of the 17th century ships in Courland.
The resume of the monograph states that "this is a book about sailing ships that were built in Kuldīga, Ventspils and Liepāja at the dawn of Modern Times." The history of Ventspils is inseparable from the harbour. As early as in the 11th and 12th century the town had a trading post and was a member of the Hanseatic League, yet the most prominent pages of history refer to the reign of the Duke of Courland and Semigallia Jēkabs. A. E. Zalsters has searched through ancient documents for an evidence as to where the sailing ships of Duke Jēkabs were built, what methods and materials have been used, what devices the ships were equipped with, how did they look and where did they sail to.
A. E. Zalsters believes that sailing vessels are the most romantic ships – "The sailing vessels built in Latvia are the object of my 30 years long research, my hobby and my passion."
The graphical design of the book, including author's own drawings, was so excellent that the book was recognized as the most beautiful book of 2002 in Latvia; it was also awarded in the Leipzig Book Fair and stirred great interest of scientists in many countries.
In 2006 Arturs Eižens Zalsters was elected as the honorary member of Latvian Association of Science History.
The A. E. Zalsters collection in the Rare Books and Manuscripts department of National Library of Latvia consists of 24 items (volumes) – manuscripts, archive excerpts, correspondence – all sorted and submitted for storing by himself.
18 volumes in one way or another relate to the unrecognized research of Rundāle; other volumes contain information on various historical shipbuilding issues, the ethnical distribution of inhabitants in Courland until the 13th century, correspondence with Estonian seafaring historian Vello Mäss etc.
The field of chemical technology was not forgotten too. A. E. Zalsters is the co-author of paper series: "Chemistry in Livonia (1200–1561)", "Chemistry in the Duchy of Courland (1561–1795)", "Chemistry in Vidzeme and Latgallia (17th-18th century)", "Chemical industry in Latvia (1860–1918)".
Both of A. E. Zalsters Master's degree thesis can be found in the A. E. Zalsters collection in the Rare Books and Manuscripts department of National Library of Latvia as well.
The number of A. E. Zalster publications exceeds 400 units, including reproductions of his art work, that were exhibited at 134 different exhibitions, mostly watercolors and works in ink, etc.
The memoirs of A. E. Zalsters "The adventures of Baron's gardener's grandson" (2004, 84 pages in typewriting) are in the possession of Uldis Zemzars.
The life of A. E. Zalsters ended on March 3, 2008. He was buried in Jurmala, Asaru cemetery.
On the 26 of March 2009, during the meeting of the Seamanship Association of Latvia, the passed away seafarers were commemorated and, among them, also Arturs Eižens Zalsters as one of their own.
Many have been moved, especially by his dream to reconstruct the Riga ship – as soon as in 2010, a group of enthusiasts were eager to accomplish this task before 2014 when Riga was appointed as the European Capital of Culture. Alas, the intention was not fulfilled again.
The followers of A. E. Zalsters's dream of the Riga ship is the public good organization "Rīgas Kuģis/Riga Ship", founded in 2013. This time a great celebration is coming – 100 years' anniversary of Latvia but, before that, A. E. Zalsters 95th birthday in 2017.
As modest, quiet and unnoticeable Arturs Eižens Zalsters might have seemed in everyday life, he has left a significant legacy for his country and people.
/Information gathered and taken from the National History Museum of Latvia, Latvian Museum of the History of Chemistry, University of Latvia articles, volume 738 "The history of sciences and museums", newspapers "Diena", "Kurzemes vārds", "Fokuss", RTU magazine "Jaunais Inženieris", news portal Delfi and news agency LETA/